At dawn this morning in Miami, a Chevy pick-up truck traveling eastbound on Northeast 15th Street, in downtown Miami, was t-boned by a white Daimler SMART car traveling southbound on Biscayne Boulevard. One of the investigators told the media that it is believed the driver of the SMART car failed to stop at a stop sign or a red light, which was the cause for the two vehicle to collide at such a high rate of speed.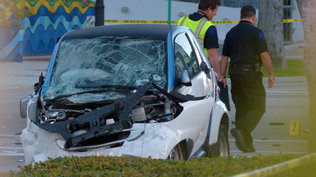 The incident occurred at approximately 4:45am on Wednesday August 14, 2013. The passenger of the SMART car, a young woman in her twenties was fatally injured and died at the scene. The driver of the SMART car was critically injured and rushed to Jackson Memorial Hospital. The condition of the driver of the pick-up truck remain unknown but reporters have shared that there are serious concerns he may have sustained a catastrophic spinal cord injury and may be paralyzed. (Photo on the left courtesy of Miami Herald)
The SMART car involved in this incident, whose driver was supposedly at fault, was a CAR2GO vehicle. According to the company's website, CAR2GO is a mobility program launched in Austin, Texas back in November 2009. The company provides a fleet of free-floating vehicles distributed all over the city. Individuals who become members of CAR2GO have the ability to use any vehicle from the CAR2GO fleet at any time.