In the recent months, Leesfield Scolaro represented a family whose 2-year-old child lost his life in a furniture tip-over incident that occurred in the toddler's bedroom. Despite the family's endless love, care, and attention, the tragedy could not have been avoided. Millions of people put their trust in industries to abide by safety guidelines to prevent needless incidents, and yet every single day nearly two children will have to be hospitalized from furniture incidents – and hundreds will lose be fatally injured. It was no different in our case. The manufacturer was trusted by our clients to be a safe and adequately designed piece of furniture. That dresser was even compliant with all the industry standards in effect, but when an industry self-regulates, tragedies seem to repeat themselves.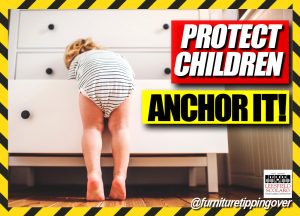 Attorneys Thomas Scolaro and Adam Rose's relentless pursuit for justice resulted in a $17.5 million settlement.  Since then Leesfield Scolaro started its own campaign with 'Anchor it!', but most importantly the family has pursued legislative change and began funding an awareness campaign nationally to prevent similar tragedies from impacting others. An arduous mission which one day, hopefully soon, will deliver on its promise. Unfortunately, parents do not have the luxury to wait for legislative change, and Leesfield Scolaro has had to litigate countless defective product cases on behalf of grieving families who have lost their most precious life.
This week, Thomas Scolaro resolved a long and difficult product liability case on behalf of clients who lost three members of their family, including two small children. Several claims against several manufacturers were litigated, experts in many different fields were retained, legal strategies were developed, weighed against the facts, and ultimately proved to be correct, resulting in an overall 8-figure confidential settlement.