Since 1976, victims of negligent truck drivers have placed their trust in Leesfield Scolaro's trucking attorneys to fight for them. In 2020, Attorneys Thomas Scolaro, Adam Rose and Thomas Graham have recovered a combined $5million for two clients whose lives were impacted by reckless truck drivers. The experience and determination displayed in these two cases is what separates Leesfield Scolaro, the longest-established personal injury firm in South Florida, from other firms with fewer trials under their belt.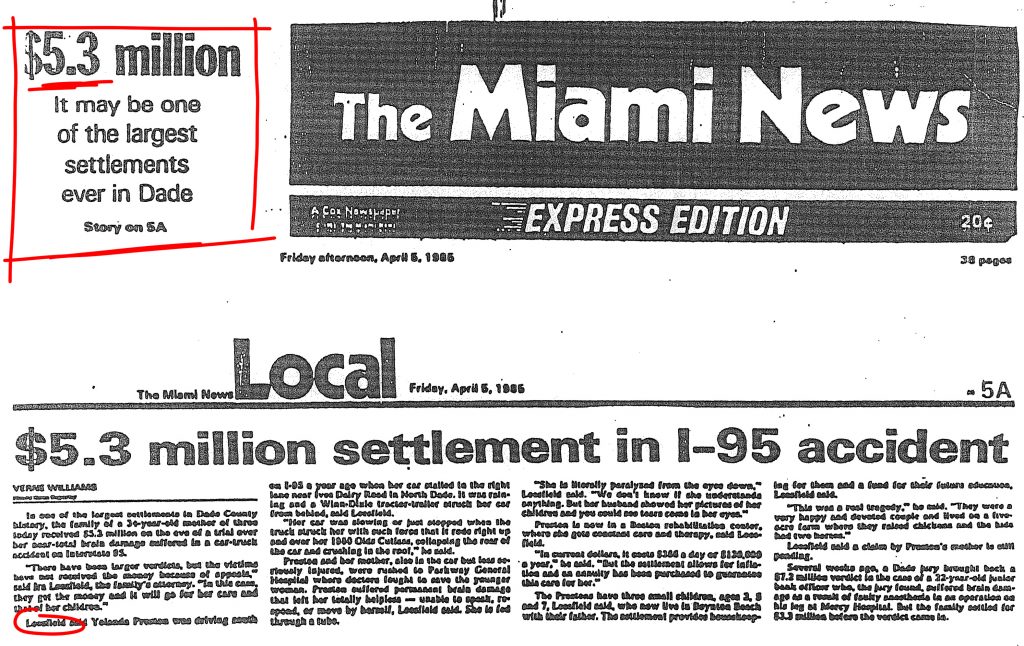 Our history with trucking cases dates back to five decades ago when Ira H. Leesfield, founding partner, settled a $5.3 million case on behalf of a young woman who was catastrophically injured by a distracted Winn-Dixie truck driver. At the time, this was the largest settlement ever obtained in South Florida and the creative lawyering was the central feature in the Miami News. That settlement today (with inflation) would equate to around $13,000,000. Our past trucking cases include a $8,650,000 settlement on behalf of teenagers, $3,000,000 settlement in Orange County, $1,000,000 above the policy limits on behalf of an injured truck driver, $7,995,467 arbitration award, $5,350,000 settlement obtained on behalf of a bicyclist in Key West.
Since the 1980s, our trucking accident practice has grown exponentially. In 1983, Ira H. Leesfield, in coordination with the Association of Trial Lawyers of America National College of Advocacy, started a workshop for fellow attorneys on the topic of "Motor Vehicle Litigation" which included in large part how to litigate trucking cases in the face of life-altering damages. Over the years, with an immaculate track record, out-of-state attorneys referred their Florida-based trucking cases to our firm. Today, with well-over $300 million recovered on behalf of clients injured on the road – not just trucking accident victims – our clients know that our vigorous our aggressive representation will produce the best results, leaving zero dollar on the table.