A life-altering collision for at least 2 young women occurred this morning at approximately 2:30 a.m. on Coral Way and SW 84th Avenue in Westchester, Florida, when their vehicle collided an 18-wheeler tractor trailer, driven by Larry Donell Robinson.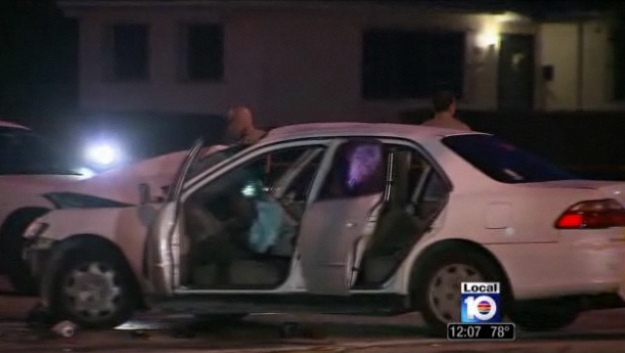 Larry Robinson was lucky to walk away from this accident without a scratch, but sadly for the occupants of the white Honda Accord, they all were rushed to Kendall Regional Medical Center.
We have since learned that the driver of the Honda, Alexandria Estrella, 23, and Ana Posada, 18, are in critical conditions and still fighting for their lives. The other three passengers identified by police as Jovanni Oliva, Anthony Emmanuel Del Rio, and Moises Arnold Alvarez were also injured, but not critically.
During his press conference, Miami-Dade police Detective Alvaro Zabaleta said that they are still trying to make sense of the accident. Nonetheless, he stated that "there is over 150 feet of skid marks, so at a minimum, these individuals were traveling at 108 feet per second"
At this time, Kendall Regional Doctors are hoping to stabilize Alexandria Estrella's health to take her off a ventilator.
Having litigated motor vehicle accidents, and tractor trailer accidents in Miami and throughout the state of Florida and represented victims who were injured in catastrophic accidents for the past 35 years, this latest accident is one additional reminder that speeding is one of the leading contributing factors in motor vehicle accidents resulting in fatalities and serious injuries.
It is too early to conjecture about potential legal claims in last night's collision, but there have been rumors that the Honda driven by Alexandria Estrella was racing with another vehicle at the time, which would explain why she was speeding in the first place. Secondly, the family was told the day before that the small group of family and friends were going to a club Thursday night.
Police has stated that it is too early to know whether alcohol played a role in this collision. Thus far however there seems to be no dispute that the 18-wheeler driver did not commit any wrong-doing as he was rear-ended by the Honda.