According to Broward Sheriff's Office, a bicyclist was killed today after he was hit by a cement truck near Davie Boulevard. The authorities have not revealed the circumstances of this latest fatal bicyclist accident, but one can reasonably suspect that the truck driver did not see the bicyclist, or did not see the bicyclist with enough time to avoid fatally striking the victim.
Last year, Leesfield Scolaro began its "Share the Road" campaign, by promoting the same message on its U.S.1 signage as illustrated below. This campaign was born out of the necessary collective realization that Florida is the most lethal state in the nation for bicyclists. South Florida alone has reported over 2500 bicyclist accidents in 2014. A trend that is continually increasing by all measures. Florida leads the nation in fatalities with 119 in 2014, which rounds up the number of bicyclists killed on the road to over 550 between 2010 and 2014.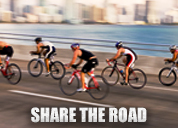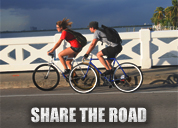 This epidemic has not been curbed by community leaders, politics, policies, or fines and criminal penalties. If a change does come in the future, it will have to be triggered by a collective behavior modification of drivers throughout the entire state of Florida. The tragedy that occurred today is even more personal to Leesfield Scolaro because it is eerily similar to a recent case where friends of members of our lawfirm were involved in a bicycle accident with a truck. In that case, the incident was caused by a distracted truck driver who decided to take his eyes off the road to adjust his GPS and failed to avoid two bicyclists whom he struck with incredible force and violence that it permanently changed two innocent lives.