Tom Scolaro's entire legal career from law clerk to named partner has spanned 16 years with the firm. Starting as a research clerk while in law school, Tom, at age 41, has now rocketed to one of the leading trial lawyers statewide in Florida. He has numerous multi-million dollar verdicts and settlements throughout he state and has brought about significant safety changes in the areas of carbon monoxide injury prevention. In 2004, Ira Leesfield and Tom Scolaro tried the matter of Kemp v. American Medical Response Management, Inc. in Key West with a $2.1 million dollar verdict. "From that point forward, Tom has pulled together a string of accomplishments unparalleled by any lawyer of his generation," says Managing Partner, Ira Leesfield.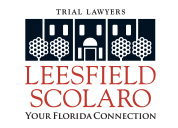 In other news, Ira Leesfield has again been selected for the 2015 Best Lawyers as stated in the Wall Street Journal and Miami Herald. This is Leesfield's fifth consecutive year of selection. Within the last decade Ira Leesfield's lifetime commitment to the profession and his clients has been recognized with numerous awards, such as the Anti-Defamation League's "Jurisprudence Award," "Melvin Belli Award," the American Jewish Committee "Judge Learned Hand Award," and the Florida Justice Association's "Al J. Cone Lifetime Achievement Award" and the "Crystal Eagle Award." He was the first Florida recipient of the American Ort "Jurisprudence Award." In 2013, the Florida Association of Women Lawyers (Miami-Dade Chapter) presented Ira Leesfield with the 2013 Philanthropist Award, recognizing his long-standing commitment to support rising female law students through scholarship grants. He has twice been awarded the prestigious Wiedman Wisocki medal for outstanding advocacy. He was nominated as "Lawyer of the Year" by the Trial Lawyers for Public Justice, and selected as one of America's Top Ten Trial Lawyers. He is also rated by AVVO, SuperLawyers, Martindale-Hubbell,, U.S. News & World Report "Best Lawyers", among others.
In October, the firm celebrated its 38th year of service to the State of Florida with the addition of Daniel Diaz-Balart, son of former Congressman Lincoln Diaz-Balart. He comes with four years of intensive trial experience at the State Attorney's Office. Danny is now in court on a regular basis, and his efforts join the very significant accomplishments of Justin B. Shapiro and Carol L. Finklehoffe.
Leesfield Scolaro continues to represent victims of negligence and wrongdoing from around the country and the world with recent results for clients from Europe, Canada, South America and the continental United States. Those results include:
$3.2 million for a neurologically injured Italian Student;
$3.25 million for a gadly burned German national;
$1.2 million for a British family injured in Ormond Beach, Fl.;
$2.5 million aviation recovery for a widow and her family from Spain;
$1.575 million for rape victim from Canada;
$900,000 for burn victim from Mexico;
Confidential settlement for rape victim from Brazil.
Ira Leesfield remains active in the American Association for Justice, having served as Florida Senior Governor on its board for over 24 years, he now chairs the organization's Stalwarts Committee for the second consecutive year, while he maintains an active trial schedule and work with the Leesfield Family Foundation and the Clinton Foundation. With 38 years of firm experience, longevity, hard work and re-commitment have become the trademark of the firm.
Maritime and cruise ship passenger cases arise from all over, including New York, New Jersey, Pennsylvania, Massachusetts, Illinois, Georgia, and Michigan, according to Carol L. Finklehoffe, Chair of the Maritime Law Association Cruise Line Passenger Ship Committee. Justin Shapiro has recently completed a number of significant cases in Key West and Central Florida, as well as handling pending trials in Miami-Dade, Broward and Palm Beach counties.
"I am honored to be part of the new firm name, but our standard for excellence and results remains exactly the same," according to Tom Scolaro, now a 16-year veteran of the firm.
Firm recognition, most importantly is from both referral lawyers and clients.
"Thanks again for all the great work you do for our firm and for our clients. We absolutely look forward to continuing to collaborate with you and your firm on significant accidental injury cases. And, by the way, our legal administrative staff members likewise appreciate how good you make us look to our clients down there in Florida."
-Enrique O. Guerrero, Guerrero & Rosengarten, New York.
"Our firms in New York and California have co-counseled with Leesfield Scolaro on a number of high end important cases. Our work together could not have been more smooth, enjoyable or rewarding. We look forward to continuing this working relationship."
-James Kreindler, Kreindler & Kreindler, New York.
"When my father was injured in Florida, I did my research and due diligence, and found Leesfield Scolaro to represent him. Although the case is still pending, I get thorough updates, and I am most impressed in the pace at which they are movingt this case. I can recommend this firm without reservation."
-Andy Bokser, Client.
"Mr. Scolaro, we want to say thanks to you for being our attorney, along with the rest of the law firm knowing it was a very long road from beginning to the end. We would always keep you in thoughts if we ever need to call on you again. Again, thanks a lot for all your help. It was greatly appreciated."
-Daniel and Ovilda Lake, Clients.