Tom Scolaro's entire legal career from law clerk to named partner has spanned 16 years with the firm. Starting as a research clerk while in law school, Tom, at age 41, has now rocketed to one of the leading trial lawyers statewide in Florida. He has numerous multi-million dollar verdicts and settlements throughout he state and has brought about significant safety changes in the areas of carbon monoxide injury prevention. In 2004, Ira Leesfield and Tom Scolaro tried the matter of Kemp v. American Medical Response Management, Inc. in Key West with a $2.1 million dollar verdict. "From that point forward, Tom has pulled together a string of accomplishments unparalleled by any lawyer of his generation," says Managing Partner, Ira Leesfield.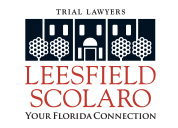 In other news, Ira Leesfield has again been selected for the 2015 Best Lawyers as stated in the Wall Street Journal and Miami Herald. This is Leesfield's fifth consecutive year of selection. Within the last decade Ira Leesfield's lifetime commitment to the profession and his clients has been recognized with numerous awards, such as the Anti-Defamation League's "Jurisprudence Award," "Melvin Belli Award," the American Jewish Committee "Judge Learned Hand Award," and the Florida Justice Association's "Al J. Cone Lifetime Achievement Award" and the "Crystal Eagle Award." He was the first Florida recipient of the American Ort "Jurisprudence Award." In 2013, the Florida Association of Women Lawyers (Miami-Dade Chapter) presented Ira Leesfield with the 2013 Philanthropist Award, recognizing his long-standing commitment to support rising female law students through scholarship grants. He has twice been awarded the prestigious Wiedman Wisocki medal for outstanding advocacy. He was nominated as "Lawyer of the Year" by the Trial Lawyers for Public Justice, and selected as one of America's Top Ten Trial Lawyers. He is also rated by AVVO, SuperLawyers, Martindale-Hubbell,, U.S. News & World Report "Best Lawyers", among others.
In October, the firm celebrated its 38th year of service to the State of Florida with the addition of Daniel Diaz-Balart, son of former Congressman Lincoln Diaz-Balart. He comes with four years of intensive trial experience at the State Attorney's Office. Danny is now in court on a regular basis, and his efforts join the very significant accomplishments of Justin B. Shapiro and Carol L. Finklehoffe.