On sunday evening, Ernesto Hernandez, 23, was pronounced dead at Ryder Trauma Center in Miami where he was airlifted following an incident off Nixon beach in Key Biscayne, Florida.
Ernesto was with his family and friends on a sunday afternoon when a nearby motorboat became stuck on a sand bar. Several people jumped out of the boat, including Ernesto, to assist the operator of the boat to free up the vessel from the sand bar. That is when one of the four propeller engines of the boat caught Ernesto and inflicted fatal injuries to his body. Jorge Pino, an investigator for the Florida Fish and Wildlife Conservation Commission relayed to the media that the "young man who came to assist ended up in the rear of the vessel and one of the engines and the propeller actually caught his body, his torso." Despite the rescue efforts, first of his friends and family, followed by fire rescue, Ernesto succumbed from the injuries he sustained while helping the vessel.
The boat in question is a 40-foot pleasure boat operated at the time by DJ Laz, a popular South Florida radio voice. The vessel was being used as Pitbull's vodka brand Voli Spirits' promotional boat.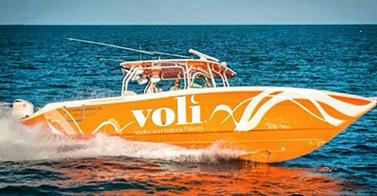 The investigators have yet to establish what may have happened or caused Ernesto Hernandez to become fatally injured while he was in the process of assisting the boat. Questions of potential alcohol intoxication have been raised, but reports have mentioned that DJ Laz, whose real name is Lazaro Mendez, did not display any signs of being intoxicated. Nonetheless, something went horribly wrong in the early evening hours off Nixon beach.
With main offices in Miami, Key West, and Miami Beach, Leesfield Scolaro has been involved in a large amount of boating incidents. In a similarly tragic case, Ira Leesfield and Thomas Scolaro represented a family whose young child was fatally wounded by the propellers of a boat in the Florida Keys. Boating in the State of Florida has multiple safety requirements that many boat operators ignore either due to a lack of knowledge, or because they choose to ignore them.
To read more about the incident mentioned above as well as other cases resolved by Leesfield Scolaro, feel free to click here.