On March 18, 2012, Alanna Demella was tragically killed at the Riverside Hotel when a car driven by Rosa Maria Rivera crashed into the hotel's pool cabana built only a few feet away from the roadway.
We previously reported on this terrible accident here: Resort Death of Pregnant Woman Challenges Leesfield Scolaro
The Police investigation is still ongoing and, to date, very little information has been released to the public. In the last 72 hours however, we have learned that the Police is looking into Rivera's potential driving under the influence at the time of the accident. Rivera admitted to the investigators that before the accident, she was with her husband at Mango's Restaurant, less than two blocks away from where the accident occurred. She also admitted ordering appetizers and a alcoholic beverage. it is still unclear whether Rivera did drink her Martini.
What the investigation has revealed so far is that Rivera was in an angry state when she left the restaurant. Indeed, she told Police Officers that she left the restaurant because she had an argument with her husband. She claimed not having drunk the alcoholic beverage before sitting behind the wheel.
Witnesses to the accident did confirm that the car was going at a high rate of speed and Rivera must have lost control of her car as the only explanation why she drove her car straight into the cabana and why she failed to stay in her lane and make a light turn.
Regardless of whether Rivera was intoxicated at the time, there is no question that she was negligent for causing this accident and for taking the lives of Alanna Demella and her unborn child.
In our prior article (link above), we discussed the possibilities of Riverside Hotel's negligence in this case. The cabana, as constructed, could have been too close to the roadway and may have been built in violation of rules imposed by the Florida Building Code.
Last week, a witness came forward and advised that there could be another potential defendant who contributed to this crash. From Mango's restaurant to the scene of the accident, Rivera drove through the intersection of SE 4th Street and SE 8th Avenue. Said intersection did not have any traffic controlling devices such as a 3-way stop sign. In fact, vehicles traveling eastbound or westbound on SE 4th street did not have to stop at all while crossing that intersection.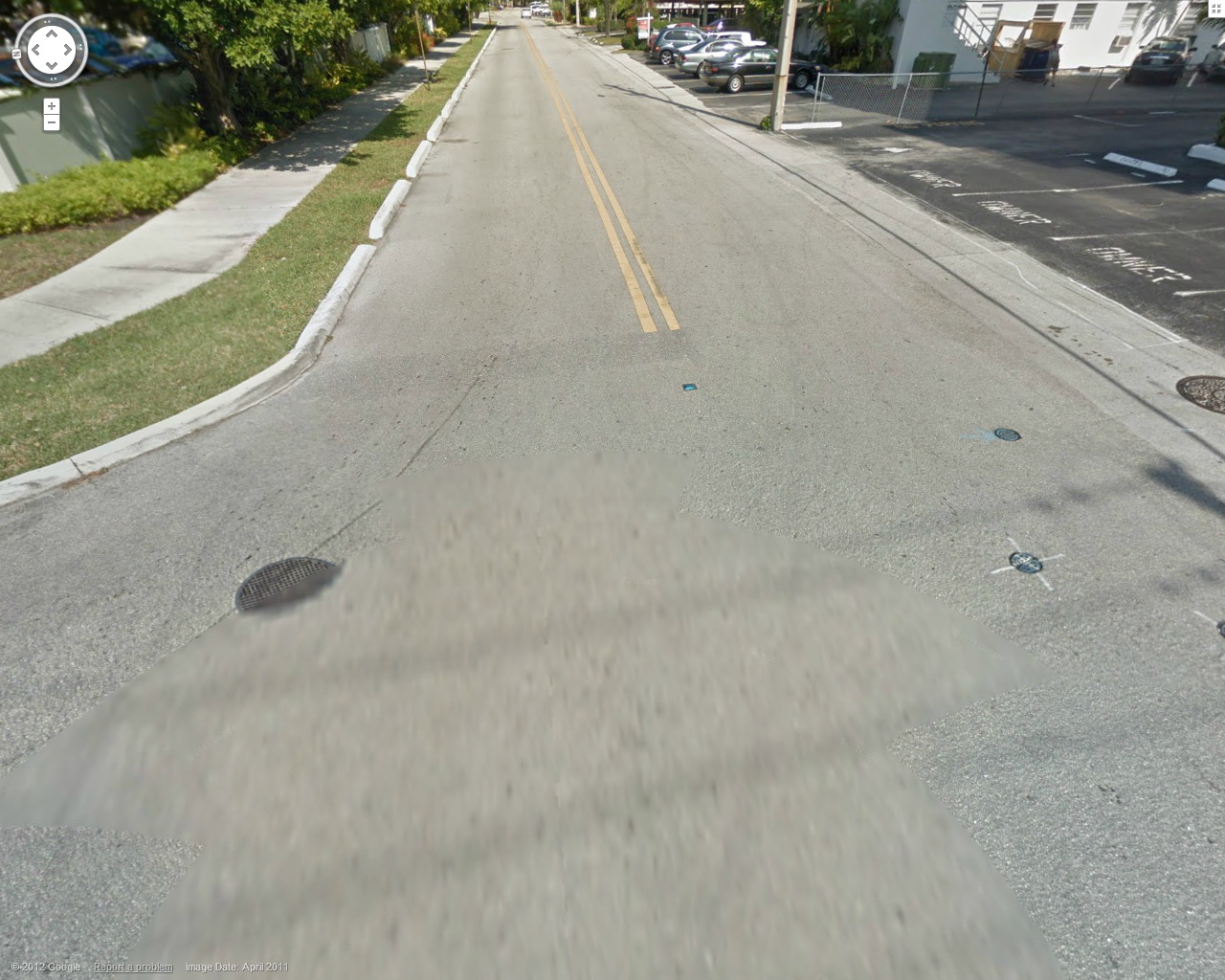 Only months prior, that intersection was equipped with two additional stop signs (eastbound & westbound) but for some unknown reason, the traffic signs were removed. On the photo (right) you can still see the darker shade of paint covering the "stop lane". The reasons for the removal of the stop sign is purely speculative at this stage. However, from inspecting the scene, it is very understandable why a stop sign was there in the first place.
Vehicles traveling westbound on SE 4th Street do not have to slow down before the light right-hand turn at the Riverside Hotel. The danger created by the absence of traffic control devices, such as a stop sign, is compounded by the peculiar absence of any signs alerting drivers that the roadway turns to the right. In fact, there are no markings on the pavement, and there are no traffic signs. A thorough investigation would help to show whether such lack of traffic signs and signage on the pavement of the roadway played a role in Rivera's failure to make the turn and her car crashing into the hotel's pool cabana.
Continue reading