Miami-based trial law firm Leesfield Scolaro announces that it has awarded a $1,000 scholarship to third-year University of Miami law student Kayla Pragid. The annual scholarship is granted in association with the Florida Association for Women Lawyers (FAWL) and is presented each year to a law student that demonstrates the highest standards of excellence in both academics and contributions to the community.
Kayla is currently ranked in the top 2.5% of her class and has been recognized on the Dean's List for all semesters enrolled. She is a member of the University of Miami Law Review and serves on its Moot Court Board. She has received numerous academic awards and is the Co-Founder and President of the Democratic Law Students Association and a past member of the Executive Board of the Miami Law Women Association.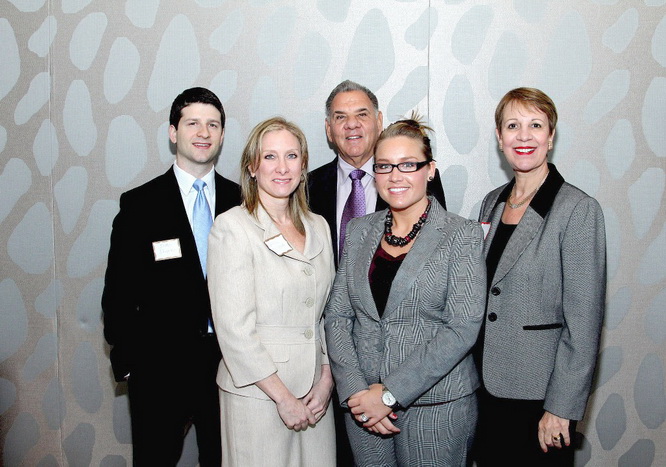 Justin Shapiro, Carol Finklehoffe, Ira Leesfield, Kayla Pragid, and Patricia Kennedy (Left to Right)
Kayla has demonstrated a commitment to volunteerism, dedicating her time as a Writing Dean's Fellow at the University of Miami, where she assists students with their writing skills. Additionally, she volunteers regularly at the Health and Elder Law Clinic, which provides free legal aid to indigent clients in the Miami area. There, her efforts are largely focused on assisting with guardianship issues and other legal matters on behalf of Miami's Haitian community.
Kayla received a bachelor's degree from Boston University. Having coped with both of her parents battling cancer Kayla is also passionately involved with the American Cancer Society and the Susan G. Komen Breast Cancer Foundation.
"Kayla was selected for this scholarship based on her exemplary academic performance and a demonstrated interest in helping improve the lives of those around her," said Patricia Kennedy, a shareholder with Leesfield Scolaro who oversaw the scholarship selection process. Read more about Kayla Pragis here.
FAWL is a professional organization dedicated to promoting the advancement of women in the legal profession. Its membership is comprised of lawyers, judges, and professionals within the business community. This year marks Leesfield & Partner's 16th consecutive year of participation.
Continue reading