In the recent months, Leesfield Scolaro represented a family whose 2-year-old child lost his life in a furniture tip-over incident that occurred in the toddler's bedroom. Despite the family's endless love, care, and attention, the tragedy could not have been avoided. Millions of people put their trust in industries to abide by safety guidelines to prevent needless incidents, and yet every single day nearly two children will have to be hospitalized from furniture incidents – and hundreds will lose be fatally injured. It was no different in our case. The manufacturer was trusted by our clients to be a safe and adequately designed piece of furniture. That dresser was even compliant with all the industry standards in effect, but when an industry self-regulates, tragedies seem to repeat themselves.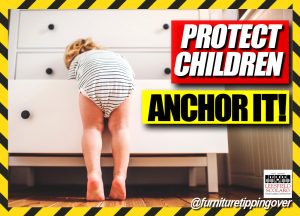 Attorneys Thomas Scolaro and Adam Rose's relentless pursuit for justice resulted in a $17.5 million settlement.  Since then Leesfield Scolaro started its own campaign with 'Anchor it!', but most importantly the family has pursued legislative change and began funding an awareness campaign nationally to prevent similar tragedies from impacting others. An arduous mission which one day, hopefully soon, will deliver on its promise. Unfortunately, parents do not have the luxury to wait for legislative change, and Leesfield Scolaro has had to litigate countless defective product cases on behalf of grieving families who have lost their most precious life.
This week, Thomas Scolaro resolved a long and difficult product liability case on behalf of clients who lost three members of their family, including two small children. Several claims against several manufacturers were litigated, experts in many different fields were retained, legal strategies were developed, weighed against the facts, and ultimately proved to be correct, resulting in an overall 8-figure confidential settlement.
Leesfield Scolaro has a 45+ year history of representing families who have lost a child as a result of a manufacturer's negligence in either designing a product, or warning parents about inherently dangerous products. Ira Leesfield has been nationally recognized for his tireless crusade to hold industries responsible for their negligence one lawsuit at a time. Whether against the children's crib industry, high-chair, children's toys, children's bicycles, ventilator, motorcycle, aviation, ATV, gun, tires, airbags, window, electrical outlet, pre-modeled homes, or more recently the furniture industry, Leesfield Scolaro's lawsuits have been the spokesperson for victims of defective products throughout the country, and Florida in particular.
The most recent tragedy that occurred in Pompano Beach this week where a two-year-old girl lost her life due to, according to Broward Sheriff's Office deputies, "a piece of furniture" is the most painful and grueling reminder that the fight against the furniture industry continues. Campaigns of awareness should not be needed if the self-regulated furniture industry simply designed adequate and safe products. That is where inconsolable grief becomes anger and demand for answers and accountability. Leesfield Scolaro has been successful in obtaining reparations despite manufacturers claiming their product was perfectly safe. Often times manufacturers will hide behind the fact their product passed all safety guidelines and industry standards and was never recalled. That defense is never dispositive provided that plaintiff's attorneys know how to properly counter it.
Experience and legal expertise in product liability lawsuits are paramount attributes not only to vindicate a family, but to bring about the legislative changes that we all aspire to implement.