We enter our 45th year, welcoming Carlos M. Macias to our litigation team. In addition to his active membership in the Florida Bar, Cuban American Bar Association and Florida Justice Association, he is also admitted in the District of Columbia and Louisiana reinforcing our longtime strategic alliances throughout the country.
Leesfield Scolaro's presence is now recognized in 31 jurisdictions throughout the United States. In conjunction with National co-counsel, we have become America's most geographically diverse personal injury firm as we begin 2021. Working with lawyers from Alaska, Washington State, Hawaii, New York, Pennsylvania, New Jersey, California, and Texas, just to name a few, we have now aggregated over a billion dollars of recovery to out-of-state clients for unexpected events in Florida.
Similarly, of the 67 counties in Florida, we have had the opportunity to litigate, in 33 different courthouses with record-breaking results. Results are the engine of our geographic diversity," says Senior Partner, Ira Leesfield, Past President of Florida Justice Association, The Melvin M. Belli Society, and a 25-year Board member of the American Association for Justice. Ira has been an invited guest speaker at almost every State Trial lawyer association in America and three countries outside of the United States. His goal is to complete all 50 states by the next decade.
In addition to Mr. Macias' admission to the District of Columbia and Louisiana Bars, attorney Thomas Graham is now licensed in both Florida and Pennsylvania. Partner Thomas Scolaro will present on the topic of "Law Firm Marketing: What Works and What Doesn't When Building Your Practice" during the 2021 West Virginia Association for Justice Mid-Winter Seminar. Justin Shapiro was recently featured in the Florida Bar Young Lawyers Section.
"The firm's growth continues to be qualitative," according to Partner Justin Shapiro whose longevity and dedication reflect the hallmark of our 45-year practice. Experienced and outstanding performance from our professional staff reflects decades of hard work. Our administrative and support staff boasts loyalty from a team with 44 and 35 years of experience.
Director of Litigation, Renaud Bannel, has now supervised the successful resolution of over 4,000 cases from places as far away as the United Kingdom, Israel, Serbia and Japan. Leesfield Scolaro remains dedicated to clients and co-counsel with practice areas over the entire spectrum of personal injury and wrongful death litigation. Within the past 12 months, supported by the extraordinary legal talent of Adam Rose, the firm has published numerous articles and treatises in legal journals and trial lawyer magazines, resulting in a continued upward projection of client recoveries and referral lawyers' satisfaction. Recently, Adam helped resolve a $5 million maritime case for clients from the United Kingdom. Consistently recognized as a sta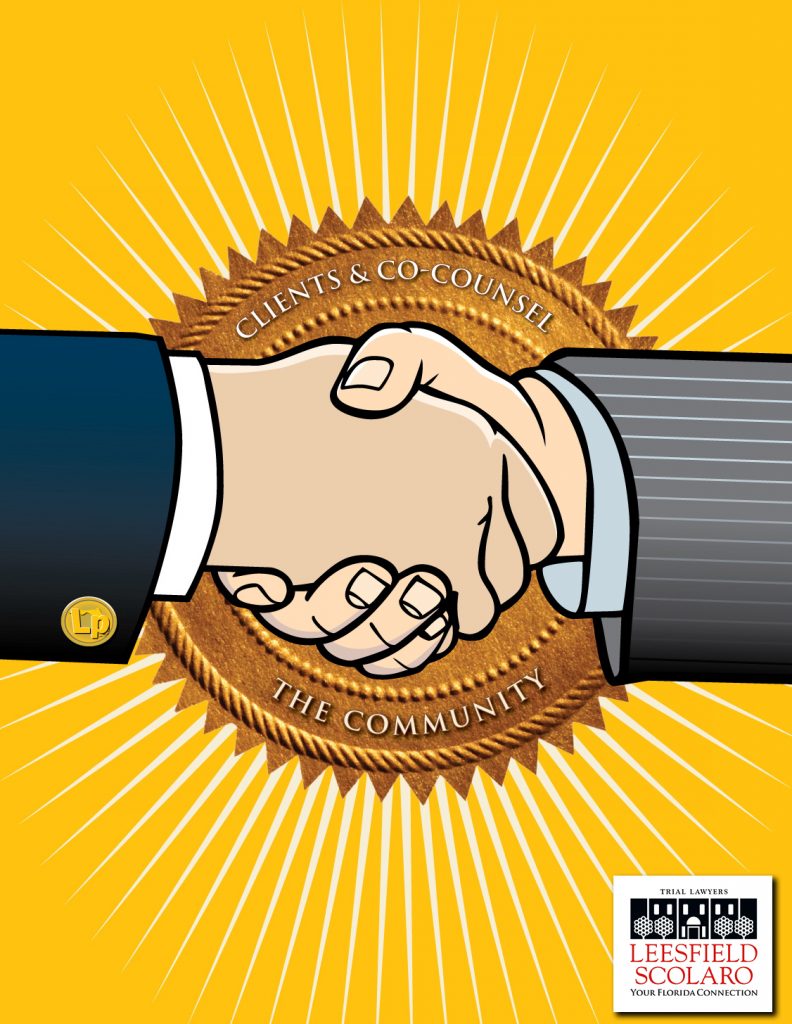 tewide leader in client satisfaction, our commitment to the community is unwavering.
"We are reminded of the challenges facing our profession and community, and have responded with full fledged support of local and South Florida charitable organizations and food banks, including Star of the Sea Foundation, Florida Keys Outreach Coalition, Inc. and Bahama Village Little Pantry in Key West, while making major contributions to assist first responders and front line workers in the fight against COVID-19," explained Partner Scolaro.
On behalf of our entire Firm and our strategic partners throughout the state and country, we look forward to a turnaround year for our national health and well-being as we re-commit our support to our community of friends.
Ira Leesfield,
Managing Partner