On October 1, 2013, the first law banning texting while driving comes into effect in the State of Florida. This law is a half step in the right direction, but a half step nevertheless.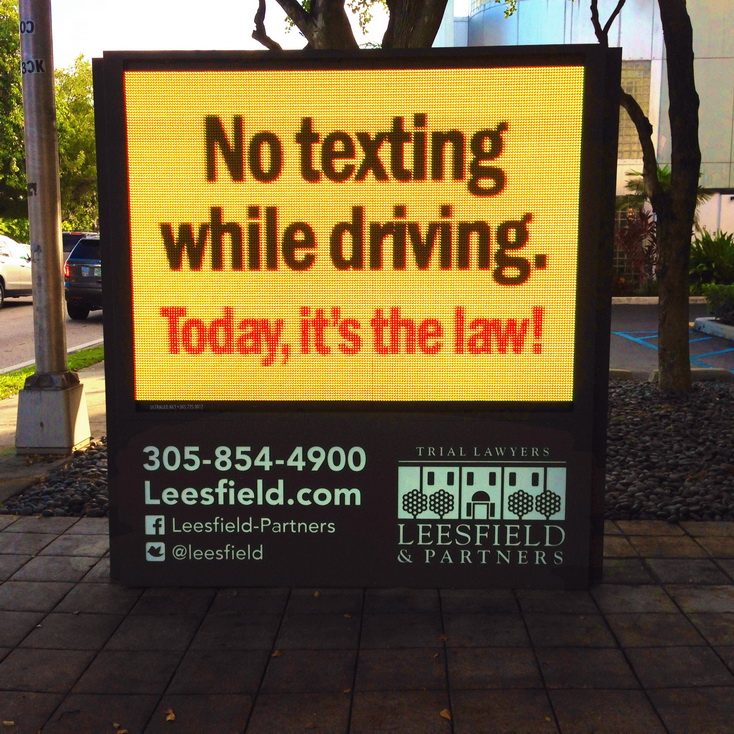 The Florida legislator has advocated for a ban on cell phone use while driving for several years. The best compromise Tallahassee was able to reach has essentially pulled the teeth of the new law. We described in detail the shortcomings of the new piece of legislation in our previous articles on the topic:
Florida's ban on texting while driving – A toothless law in need of more bite!
Florida on its way to ban texting-while-driving? How a worthless piece of legislation will keep roads unsafe.
Essentially, the law does not place any incentive on drivers to do the right thing and stop using their cell phones while they are behind the wheel. The new law has numerous built-in exceptions and exemptions that allow drivers to lawfully use their phone in the car. First, if your car is stopped, at a red light or a stop sign, you can use your cell phone at your leisure. That includes texting, checking your emails, browsing the internet, watching a video online, etc. If your car is actually moving, you can still lawfully use your phone for certain tasks such as using voice-commands, checking a GPS map and directions. You can even read text messages if they contain 'address' information or 'directions'. In other words, you can still use your cell phone while driving and should you get pulled over, explain that you were looking at your cell phone map for directions.
More than likely however, you will not get pulled over and you will not have to explain yourself to any police officer. That is because the new law is a secondary offense, meaning that unless you commit a primary offense for which you can get pulled over, you will not have to fear police officers stopping you if they see you texting on the road.
For the past decade, Leesfield Scolaro' Senior Managing Partner has been at the forefront of the issue from a safety and business standpoint. Below are three articles Ira Leesfield has authored on this very topic:
Make the right call on texting and driving
Texting and driving a costly business risk
Special to the Miami Herald
Driving + Cell Phones = Bad Call
American Association for Justice (2010)
Today is the first day the new law is in effect. It is the perfect opportunity to stand by the road, look at cars passing by and marvel at the number of drivers who are using their phone while making 40+ miles per hour. Or you can look at the daunting statistics on accidents caused by texting:
– Drivers who use hand-held devices are 4 times more likely to get into crashes serious enough to injure themselves and others.
– Driving while using a cell phone reduces the amount of brain activity associated with driving by 37%
– Driving while distracted increases the risk of a crash by 23 times – 20% of all car accidents are caused by a distracted driver – 10% of all car crash fatalities are caused by a distracted driver
The behavior has reached epidemic proportions in Florida, and unfortunately the new law will do nothing to curb that reality. Florida residents must police themselves to increase safety on the road until the law is changed and gives law enforcement the tools it needs to produce a statewide behavioral modification.