The Archdiocese of Miami is again making news for the wrong reasons. Three former PACE High School students (Hialeah) have filed a civil lawsuit against the diocese and their alleged abusers, Brother Ken Ward and Father Gustavo Miyares, and, there are more to come.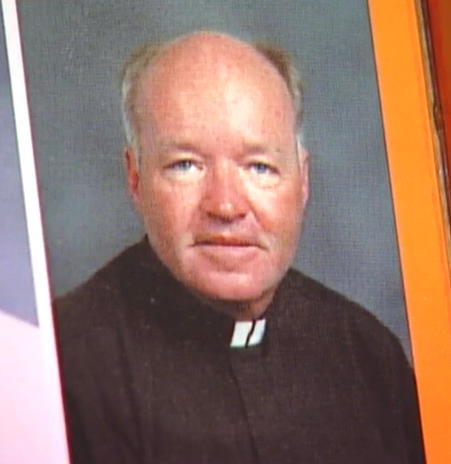 In the complaint filed this week by Leesfield Scolaro, the sexual abuse endured by the three young men is described as occurring repeatedly over several years. Brother Ken Ward was the Dean of Students at PACE High School when the alleged abuse took place. Each student was served several alcoholic beverages by Dean Ward to make them compliant. Ward would use pretexts almost on a daily basis to get the boys in his office, at the time the young men were young teenagers. Ward would ask them to take their clothes off after making sure his door was locked and his blinds were shut. He would observe the students bodies from his desk chair while sipping his alcohol-filled diet coke. Inevitably, Ward would walk to the student standing naked in front of him and began touching his body. The abuse would lead to fondling the student's genitalia, as well as masturbation and digital penetration, and other unspeakable acts.
According to the three plaintiffs, Ward would repeat his abuse on them on a weekly, if not on a daily basis. One of the plaintiffs was also sexually abused when he was a young child at Immaculate Conception Catholic School, an abuse that lasted from Elementary school through high school. During these early years, he became an altar boy, under the care of Father Gustavo Miyares. The latter slowly groomed the child by inviting him to spend time with the priest. The private meetings turned into a horrific extended-period of numerous unauthorized sexual acts, including touching genitals, and inducement of oral and anal stimulation, even as the plaintiff was a pre-teen child.
Neither Brother Ward or Father Miyares are part of the Archdiocese of Miami today. Ward was mysteriously removed from PACE High School in 2006 and was re-assigned to an all-boy school in Miami, Christopher Columbus High School. In 2008, Ward was removed for good. He has since pursued a career in nursing and currently works in Fort Lauderdale at a psychiatric hospital, according to the Miami Herald who reported on this lawsuit today.
Click here to read the article in the Miami Herald.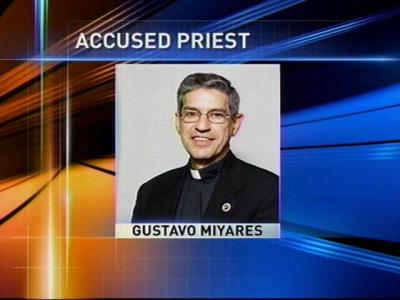 Father Miyares left the Miami Archdiocese in 2006 after allegations of sexual abuse were brought up against him. At the time, Miyares, 59, was the longtime pastor of Immaculate Conception Church. During a meeting held by top archdiocese officials, Miyares was confronted about the allegations. "During that meeting, it was agreed that Father Miyares would prepare his parish, his family and his staff for his imminent departure and resignation," said archdiocese spokeswoman Mary Ross Agosta.
She added that Miyares's resignation was based on a "mutual decision," noting that the allegations were "credible."
Following the filing of this latest lawsuit this week, Archdiocese spokeswoman Mary Ross Agosta said senior church officials first learned about the alleged abuse last fall. This would seem to contradict several public records, which evidence that, as early as 2006, and before, the Miami Archdiocese knew of claims of sexual abuse occurring at PACE High School by Brother Ken Ward. At the time, a PACE teacher reported alleged sexual misconduct by Ward to the Miami-Dade Police Department and to Ana Garcia, PACE High School principal. Observations of Brother Ward's aberrant behavior were legion.
"He's not sure exactly what Ms. Garcia did with the information he provided," stated an October 2006 police report. The police report shows that a sexual crimes detective interviewed the teacher and five students believed to be targets of Ward's alleged sexual abuse.
These reports establish that the school and the Archdiocese of Miami knew as early as 2006, that Ward had accusers who suspected him of sexual misconduct. These allegations did not come from a victim, but from a faculty member who had information of potential sexual abuse going on at PACE High School. The question remains as to when the Archdiocese and PACE High School Principal knew about these allegations, and did these allegations have anything to do with Brother Ward's removal from PACE that same year. Ward was suddenly whisked out of PACE before the end of the 2006 school year. If the two events are linked, then what was the Archdiocese's motivation to re-assign Brother Ward to another high school in Miami, an all-boy high school.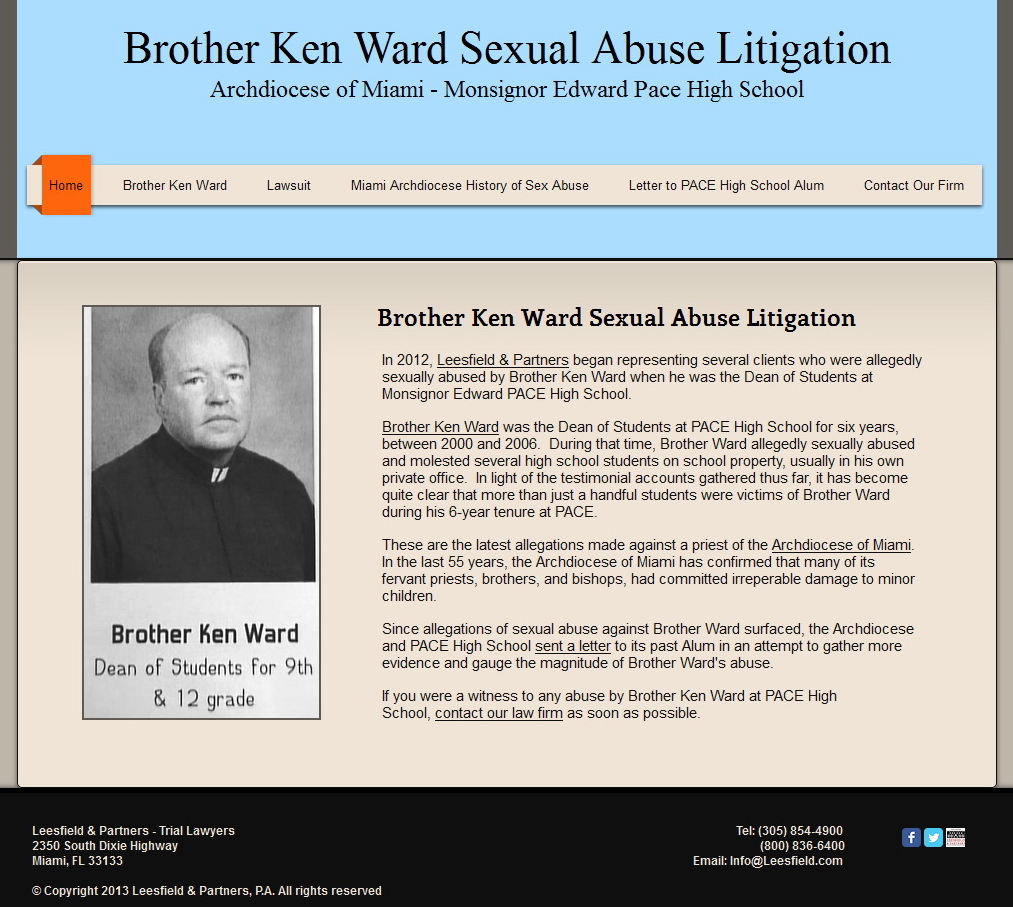 In conjunction with the filing of this lawsuit against the Archdiocese of Miami, Leesfield Scolaro is calling upon all potential witnesses of these alleged sexual abuses, to come forward, and share any information pertaining to and relevant to this latest church sex abuse lawsuit. If you have any information about the matters discussed in the lawsuit, or know anybody who may have some information, visit our sexual abuse litigation website to contact our firm directly, or contact our office at 305-854-4900.