Last week, the driver of a scooter was fatally injured in an incident with a UPS driver in Miami Beach. The reports at the time have collectively made a point to say that the operator of the scooter was not wearing a helmet, almost impuning them. Florida drivers know full-well that helmets are not required to operate a motorcycle or a scooter/moped. Whether in the court of public opinion or court of law, not wearing a helmet is not a reason to accuse an innocent driver of wrongdoing, without knowing all facts surrounding an incident, including this latest fatal collision.

Read Ira Leesfield and Justin Shapiro's article published in Trial on ways to approach litigation involving e-scooters and sharing services.
Let us be very clear. In general, when a scooter operator -not wearing a helmet- is thrashed by another vehicle, the focus is not and never should be on the helmet. The one and only cause for the incident in that scenario is the negligent, often reckless driver of the at-fault vehicle, who expressed utter disregard for other motorists on the road. Defense attorneys attempt to take the focus away from the main thing, which is their client's negligence. The strategy is to appeal to the general population's biases against motorcycles, scooters and mopeds in general, which makes us look for a reason to blame the victim. For the past 45 years, Leesfield Scolaro has litigated countless cases while representing families whose spouse, child or parent was killed by another vehicle, including commercial trucks.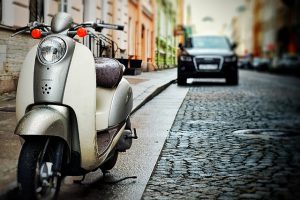 Recent results obtained on their behalf include the following:
$8,650,000.00 settlement for catastrophic injuries to a young woman and $7,995,467 arbitration award for the wrongful death of another young woman and her family in the same collision caused by a negligent truck driver who made an illegal u-turn on the turnpike directly into the path of our client's vehicle.
$1.275 million – Moped ran over by large commercial truck whose distracted driver did not keep a proper lookout before changing lanes.
$5,350,000 – Our client was struck by an out-of control vehicle while the driver was adjusting his GPS.
$3 Million – Settlement for our client and his family after a commercial truck who ran a red light t-boned another oncoming vehicle, turned over on the roadway, and crashed into our client's stopped vehicle.
$5.2 million – Georgia resident was injured in Key West when a distracted driver failed to stop at the red light and crashed into him.
$1.1 million – Claim against a negligent driver who made a left turn into the path of our client's motorcycle.