At around noon on Wednesday October 10, 2012, a large portion of a five-story building collapsed without warning, killing 2 construction workers, injuring several others, and another man is still missing at this hour.
The cause of this tragic incident is not yet known, but the police, construction investigators, and code experts are currently on site to determine what may have provoked the under construction parking garage at Miami-Dade College in Doral, Florida, to fall like a house of cards.
Last night around midnight, rescuers found a worker who had been trapped under the rubble for almost 12 hours. Attempts were made to extract the man, but the decision was made at around midnight last night to amputate both his legs in order to save his life. About one hour later, the man was cut above both knees, freed from under the collapsed concrete and rushed to the local hospital by ambulance.
Rick Rutigliano, an electrical supervisor who was on site at the time of the collapse, was on the other side of the building when he began to hear and feel a loud rumble. He ran to the other side of the building and saw the destruction that had just occurred. He later told the authorities that the collapse seem to have started after a crane set down an expansion beam on top of another beam. It has yet to be determined whether this was the cause or even a contributing factor to the incident.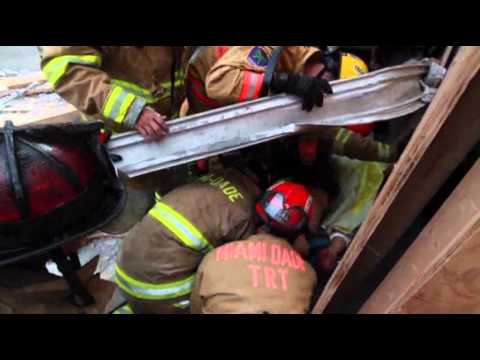 It is believed that the two workers who lost their lives, as well as the 7 injured and one missing person are all construction workers employed by the garage contractor, Ajax Building Corporation, headquartered out of Tallahassee, Florida, and doing construction work in all southeastern States.
The garage was scheduled to open to the public in less than two months. It was a $22.5 construction contract which came to a tragic halt yesterday. Below the parking garage, office and classroom space were also built to house stores and students on campus.
This marks the second garage collapse in less than a month in South Florida. Unfortunately, fatalities related to construction accidents if far from uncommon. In 2011, construction work is the leading industry in the entire country with the most fatalities, according to the Bureau of Labor Statistics.

Leesfield Scolaro had handled several construction site accident cases during the real estate boom in Miami and Fort Lauderdale of the last decade. Recently, Thomas Scolaro resolved a multi-million dollar case involving a worker catastrophically injured after he was his by the boom of a crane which had been recklessly operated by the crane operator.
Construction accidents are among the most serious cases because they involved fatalities or life-altering and catastrophic injuries to innocent workers.
If you or a loved one were an injured victim in a construction accident, contact one of our construction accident attorneys at 1-800-836-6400 or 305-854-4900 to speak with us immediately. Personal injury cases stemming from construction accidents, building collapse, crane operator negligence, etc., are very technical and require experience and specific knowledge of the law, all of which are determinant in successfully resolving these matters.