Steady growth and continued client satisfaction marks the 40th anniversary of Leesfield Scolaro, P.A., as our statewide practice expands.  This year, trial lawyers Mason Kerns and Adam T. Rose joined the Leesfield Scolaro team.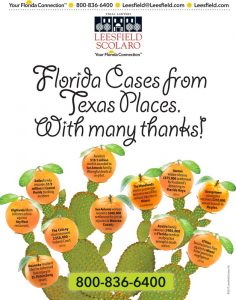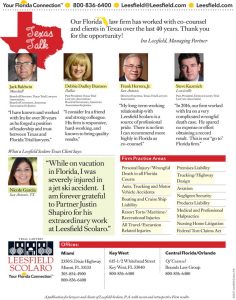 The firm continues to serve the State of Florida as our offices from Key West and Central Florida attract local and out-of-state business.    A recent influx of clients and cases from the great state of Texas has allowed our firm to serve longtime co-counsel and friends with high value recent results.   See "Texas Cases from Texas Places" (right).  Texas visitors combined with clients and referrals from 26 other U.S. states, Canada, United Kingdom and around the world, have reinforced the firm's cases from other places.
We have been fortunate to bring about outstanding results for clients nationwide and around the world, including:
∙    Anchorage, AK
∙    Phoenix, AZ
∙    Hoover, AL
∙    Middlebury,CT
∙    San Diego, CA
∙    Marietta, GA
∙    Chicago, IL
∙    Indianapolis, IN
∙    Salem, MA
∙    Rockville, MD
∙    Farmington Hills, MI
∙    Minneapolis, MN
∙    Kansas City, MO
∙    Incline Village, NV
∙    Raleigh, NC
∙    Hampstead, NH
∙    Egg Harbor Township, NJ
∙    Montgomery, NY
∙    Westerville, OH
∙    West Chester, PA
∙    Chattanooga, TN
∙    Chester, VA
∙    Snohomish, WA
∙    Salem, WI
∙    Canada
∙    Spain
∙    France
∙    Italy
∙    Germany
∙    Netherlands
∙    United Kingdom
∙    Scotland
∙    Israel
∙    Japan
∙    Mexico
∙    Brazil
∙    Colombia
∙    Panama
∙    Puerto Rico
∙    Jamaica
∙    Santo Domingo
In late 2016 and early 2017, our firm was able to resolve a group of diverse and catastrophic cases bringing about representative results such as:
∙    Wrongful death of a baseball coach;
∙     Motorcycle accident requiring leg amputation of  local tattoo artist;
∙    Sexual molestation case of a young student;
∙    Serious injuries to a dance instructor;
∙    Horrific boating collision involving a South American guest
∙    Tragic brain damage case involving an infant drowning;
∙    Motor vehicle collision causing serious permanent injuries to prominent and well-respected South Florida philanthropist;
∙    Reckless drunken driver's rear end collision causing massive thoracic injuries to school teacher and head injuries to her elderly mother.
∙    UPS truck collision causing massive neurological injuries to our client;
∙    Local nurse suffers permanent damage from a slip and fall at a local historic hotel as a result of negligently maintained floors;
∙    Disabled  57-year-old  man suffered threatening injuries  from negligently maintained
sidewalk;
∙    35-year-old pilot suffers paraplegic injuries from a fall when the two-story balcony railing failed.
Florida's West Coast – Naples / Collier County
Leesfield Scolaro continues its immediate response and representation in Florida's West Coast including cases from Naples, Fort Myers, Sarasota, and Tampa.    Such cases include:
∙    Motor vehicle collision causing wrongful death of 45-year-old woman;
∙    Carbon monoxide poisoning of 22-year-old student at a dormitory;
∙    Golf Cart/bicycle accident causing serious femur fracture;
∙    Serious burns to a minor child at a house party;
∙    Wrongful death/medical malpractice as a result of failure to timely diagnose sepsis.
∙    Motorcycle/truck accident causing serious closed head injuries to college student.
∙    Boating accident causing wrongful death of 48-year-old husband and father.
∙    Wrongful death of 38-year-old pilot and his mom when their single-engine airplane crashed in severe weather.
Leesfield Scolaro has maintained a strong presence in the South Florida community supporting a number of important local charities and causes as part of the Firm's "Pay it Forward Program."
We regularly publish "Petition", our firm's newsletter, but also contribute and write for other legal publications, including Trial Magazine and Daily Business Review, and have been invited as guest lecturers to numerous organizations, including,  the Colorado Trial Lawyers Association, the North Carolina Advocates for Justice, New Jersey Association for Justice, Louisiana Association for Justice, Melvin Belli Society, Monroe County Bar Association, Palm Beach County Bar Association and American Association of Justice on various topics of interest to the trial bar and public.  In August, the American Association for Justice's publication, Trial Magazine, featured an article entitled Excursions Gone Wrong which was a centerpiece during the year amongst in-state and out-of-state trial lawyers.
This year also brought a high recognition to Managing Partner, Ira Leesfield, as he was awarded the 2016 Trial Lawyers Care Award at the American Association for Justice Annual Convention held in Los Angeles, CA.   The nation's largest trial lawyer organization nominated Leesfield for his extraordinary, consistent and long-term dedication to help the less fortunate Americans and the South Florida community through difficult times.  In addition, Leesfield and his firm were profiled in the Daily Business Review outlining significant achievements during the year.
Thank you to our clients, friends, co-counsel and the community for your ongoing support.
Disclaimer: The facts and circumstances of your case or potential case may differ from the facts and circumstances of the cases discussed here. Not all case results have been provided. The results provided are not necessarily representative of the results obtained in all cases. Each case is different and must be evaluated and handled on its own merit.
Save
Save